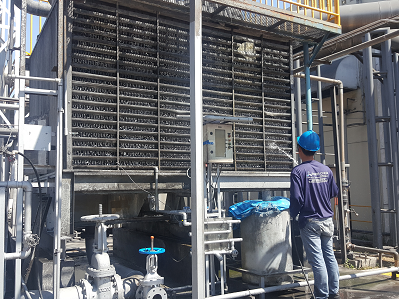 11 Jan

Cooling Tower Maintenance Tips
Q: HOW DO I CLEAN AND MAINTAIN A COOLING TOWER SYSTEM?
A: Keeping your cooling towers operating properly requires regular cleaning and maintenance to prevent microorganism growth. Unless you currently have a maintenance plan that includes cleaning, you are not doing enough to keep your tower working as it should. In addition to harboring bacteria, dirty cooling towers can draw debris through piping, reducing the efficiency of the entire system.
Q: WHY SHOULD YOU CLEAN YOUR COOLING TOWER?
A: Leaning your cooling tower and treating the water inside will prevent damage from happening to your entire system due to clogs and corrosion. Even if you regularly have the water treated, you still need to clean the tower to help keep the system free of bacteria and microbes.
Q: WHAT'S IN A SYNER CHEM COOLING TOWER TREATMENT SOLUTION AND HOW CAN IT HELP?
A: Our advanced, SYNERGY SC-1000  will prevent scale and corrosion, that typically limit production, even under the most challenging conditions and will never lose effectiveness when used with certain biocide chemistries like competing technologies.
SYNERGY BOx-1200, SYNERGY BOx T-1500, SYNERGY BNOx-1300 and SYNERGY BNOx-1400 complement SYNERGY SC-1000 to ensure microbiological growth, production-limiting biofilm, and legionella are controlled, ensuring your system is compliant with all regional regulations.
What does this mean for you?
System efficiency: Improved heat transfer efficiency in critical operating equipment
Environmental profile: Optimized/reduced water usage and reduced treatment costs and blowdown/discharge volume
Operating costs: Reduced power consumption, maintenance requirements and outages/turnarounds. Extended run-lengths
SYNER CHEM   spent decades leading the industry in engineering the most robust and effective solutions for cooling tower water treatment, and our team of experienced technicians and industry experts will work with you to design a solution that fits your needs.
Q: IN COOLING TOWERS, WHAT CAN BE THE EFFECT OF FOULING IN MEDIA BY SCALE, MUD, BIOLOGICALS AND DEBRIS, AND HOW CAN THIS BE ADDRESSED?
A: The effects of Scale, mud, biologicals and debris all impede distribution of water flow in the media. Improper water flow causes changes in evaporation and Delta T, thus decreasing efficiency.
For fouling in the media, a comprehensive water treatment program will address the biologicals with biocides. For scale, mud and silt, this can be solved through a proper combination of dispersants, bleed-off and in some cases filtration.
Q: IN THE OPERATION OF COOLING TOWERS, WHY WOULD WE NEED TO CONSIDER REPLACEMENT OF BROKEN OR DAMAGED FILLERS?
A: Broken or damaged Cooling Tower Fillers not only can impede water flow but it can also reduce the overall heat exchanging efficiency of the cooling tower.
In the chiller side of a cooling tower system, what can be observed if there is fouling from mud, biologicals or scale and what can be done to remedy this?
Fouling causes poor heat transfer and high approach temperatures, thus reducing energy efficiency. Chemical cleaning followed by mechanical cleaning of chiller tubes can solve this type of problem. Also, improving water chemistry of make-up water to prevent future problems. Adding filters can also help.
Need a cleaning and maintenance system? Check out our Cooling Tower Treatment Solution or Contact us to get a quote suited for your service needs.